Injection molding machine with 8800t
2023-10-27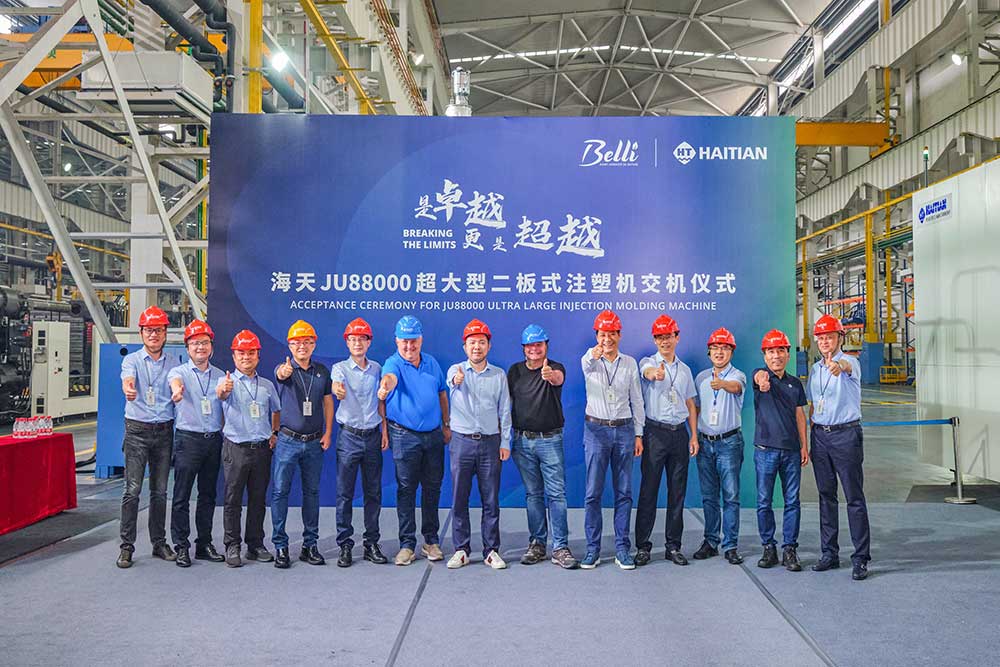 With a clamping force of 88,000 kN and an injection volume of 134,000 cm³, the servo-hydraulic two-platen machine Haitian Jupiter Series sets a new industry standard – a milestone in the development of giga injection molding machines.
In December 2022, the French company Belli SAS placed the order to manufacture this unusual large-scale machine. Haitian then put together a team of experts from various specialist areas to realize the project in close cooperation. At the end of October 2023, the JU88000 was successfully accepted by the customer at the Haitian Tongtu Road Division in Ningbo/China.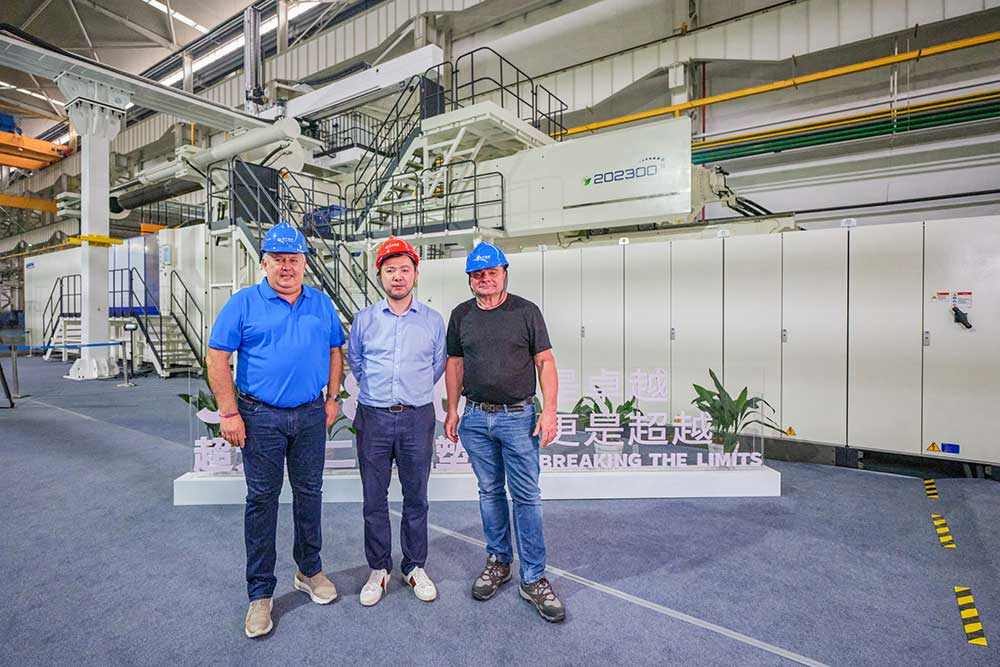 JU88000, probably the largest injection molding machine in the world
Footprint of the giant: 27.2 x 9.5 x 6.1m
Clamping platen: 5560 × 4920 × 1990mm; weight: 138t
Injection unit: 13498 × 2514 × 2665mm; weight: 85t
Machine bed weight of the clamping unit: 40t
Machine bed weight of the injection unit: 19t
Customer Belli SAS develops and produces a wide range of plastic articles for home & garden, leisure and the environment. A few years ago, the customer had a two-platen machine with a clamping force of 33,000 kN built by Haitian. Managing Director Eric Chanal when asked what prompted him to order what is probably the largest and most powerful injection molding machine in the world: "I wanted to have no limits on the injection volume and told myself I would take the largest machine in the world so that I could produce very, very large parts." The aim is to provide extremely large plastic containers as water tanks and rainwater storage tanks to support the water supply in Europe's regions with little rainfall.
Haitian has taken on an unprecedented challenge with the development and construction of this machine and has mastered it with combined forces. Even during the design phase, the European team, led by Philippe Porret, Technical Director at Haitian International Germany, managed to exceed customer requirements. Among other things, they were able to significantly minimize the footprint and optimize the injection rate, enabling the machine's performance to reach top international standards.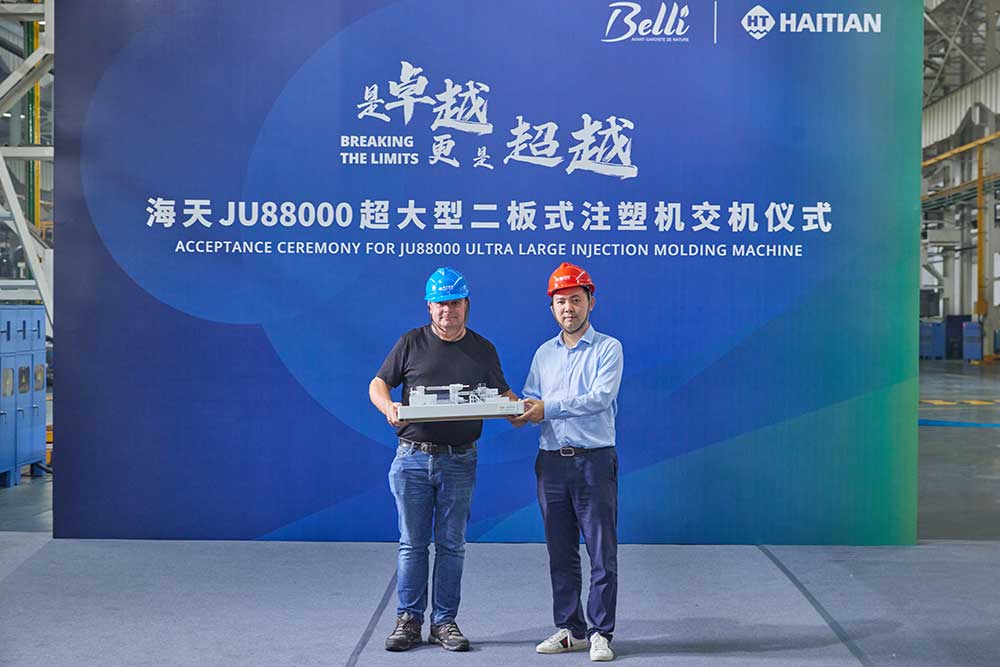 Mr. Zhang Bin, Vice President of Haitian Group, presented Eric Chanal with a model of the JU88000 as a commemorative gift
After extensive testing, the JU88000 received CE certification in September 2023. The commitment of the entire Haitian team to research, detail work and quality improvement played a crucial role in this significant push into new dimensions.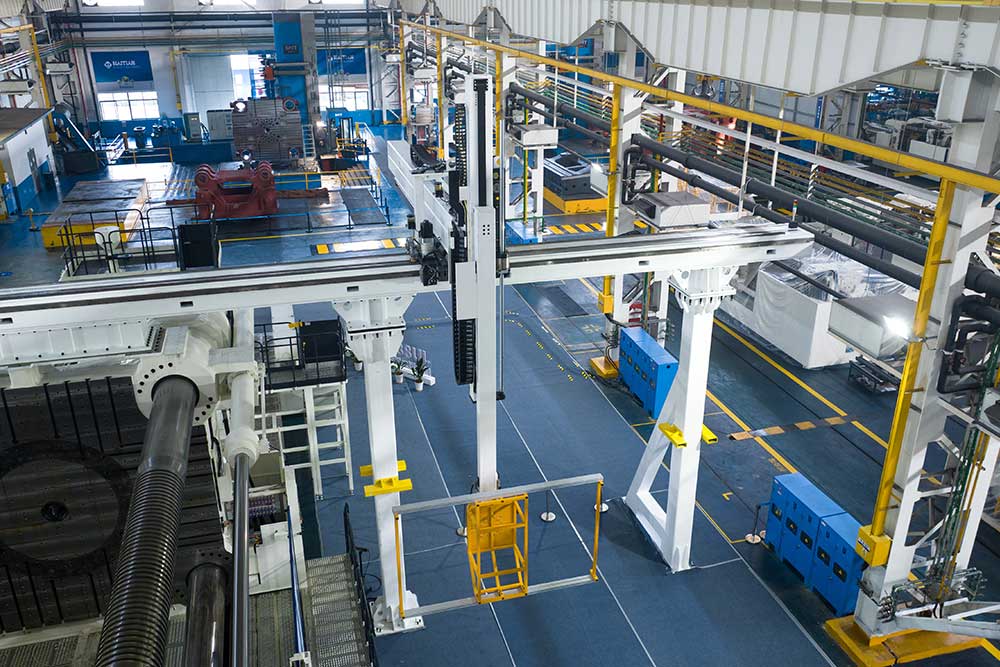 Haitian Smart mechanical arm VD-150ID
In parallel to the machine, Haitian Smart Solutions integrated the customized robot of the in-house brand "Hilectro", type VD-150ID. It is also likely to set new standards in terms of size and performance.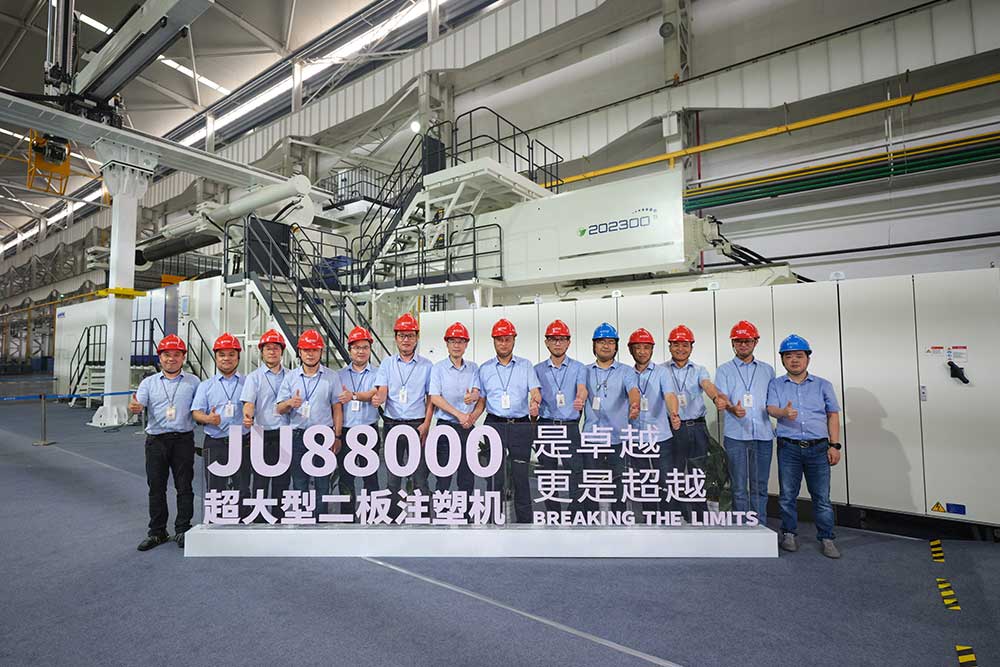 Official machine acceptance ceremony at Haitian in Ningbo, China
Eric Chanal, the owner of Belli, personally traveled to Ningbo to inspect the machine and approve it during a formal acceptance ceremony. He was visibly impressed by his new giant: "Right from the start, Haitian was able to realize all my projects as I had expected. Nevertheless, one of my dreams has come true. Haitian really made it possible, and when I see Jupiter in front of me now, I still can't believe it."
The successful design and production of such a large injection molding machine and robot underlines Haitian International's know-how and manufacturing power as a manufacturer. It also illustrates the enormous potential of the entire Haitian Group to single-mindedly break new ground and set new standards.