Haitian Plastics Machinery and Panasonic Sign a Strategic Cooperation Agreement to Jointly Build a Path to Green Development
2022-11-17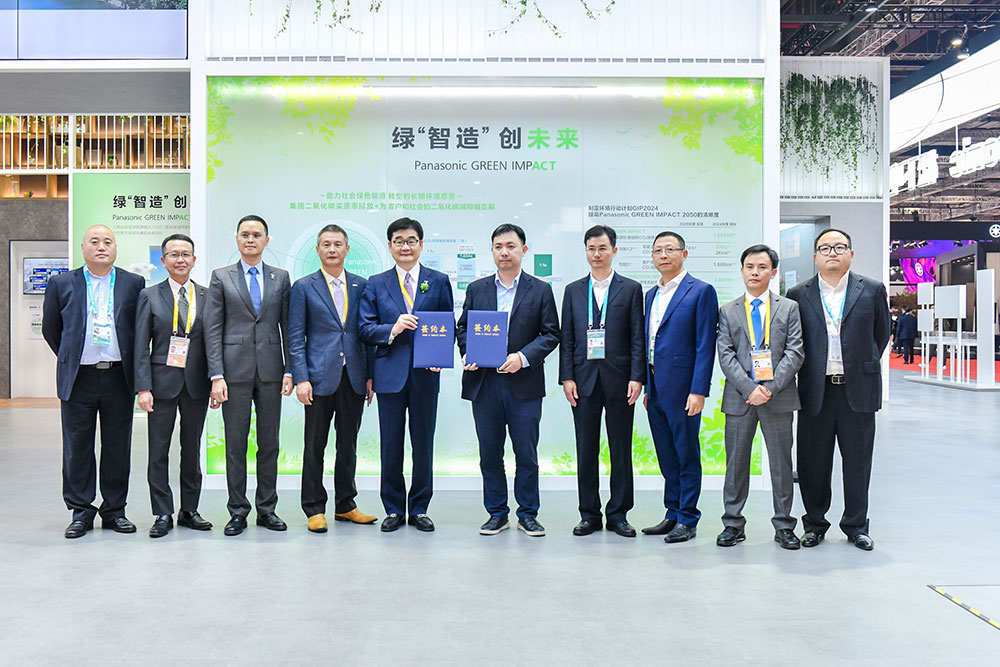 From November 5 to 10, 2022, the 5th China International Import Expo (CIIE) is held in Shanghai. On November 7, during the CIIE, Panasonic Corporation of China and Haitian Plastics Machinery Group signed a strategic cooperation framework agreement.
The signing ceremony was attended by Tetsuo Honma, Global Vice President and General Representative of Panasonic Holdings Corporation in China and Northeast Asia, Li Xuliang, Deputy Director of Production Strengthening Center of Panasonic Corporation of China, General Manager Hu Jiehua, Deputy General Manager Yoshiharu Kunisei, Deputy Director Wang Yonghua of Panasonic Appliances Washing Machine (Hangzhou) Co., Ltd. Zhang Bin, Executive Vice President of Haitian Group and Executive Vice President of Haitian Plastics Machinery Group, Hu Yongkai, Regional Business Director of Haitian Plastics Machinery Group, General Manager Chen Shengwei and Deputy General Manager Chen Yihan of the Regional Sales Company, and other leaders.
At the ceremony, Zhang Bin, Executive Vice President of Haitian Group, said: "the cooperation between Panasonic and Haitian Group began in 1995. Our long and sincere cooperation has forged a deep friendship between us. The signing of this strategic cooperation framework agreement will provide new opportunities for Panasonic and Haitian to carry out comprehensive cooperation. We will actively build a new platform for our collaborative development, raise the level of strategic collaboration, and continue to provide Panasonic with high-quality products, efficient services, and excellent customer experience."
According to the agreement, the two sides will follow the cooperative spirit of "long-term cooperation, resource sharing, mutual benefit, stability, permanence, efficiency and quality" and form a deep strategic cooperative partnership to embrace new opportunities in the new era hand in hand, provide consumers with more convenient and high-quality services, and create new value for each other.
It is reported that Panasonic has participated in the CIIE for five consecutive years. Its theme this year is "Environment". The positive contributions made by Panasonic's overall value chain to carbon dioxide emission reduction is introduced.
In order to realize green development, in the future the two sides will carry out in-depth cooperation in several projects such as energy-saving hydraulic injection molding machine and its intelligent manufacturing solution, energy-saving, environment-friendly, high-quality and high-precision electric injection molding machine and its intelligent manufacturing solution, and optimization of production processes. The two sides will work together to save energy and reduce emissions in the process of injection molding, make positive contributions to environmental protection and sustainable development, and enable each other to gain more favorable market competitive advantages.